BCBSM advocate, Jodi Davis inspires Michigan residents in their quest to lose weight and get healthier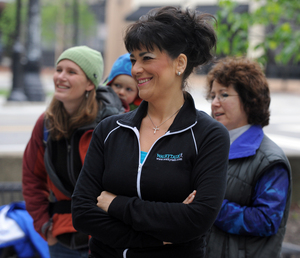 Blue Cross Blue Shield of Michigan's walking and healthy habits advocate Jodi Davis wants you to start living a healthier life. Why? Because she did and you can, too. Jodi lost over 160 pounds and has kept it off for nearly 8 years. Her secret? Walking and eating right.
Jodi has been BCBSM's walking advocate since 2007 – and she is still just as passionate about helping others start a walking regimen and stay away from unhealthy foods.  Take a look at this excerpt from Jodi's recent blog
"I'm here to help you "step-by-step" along your weight-loss journey. I am that person who believes you can do this… that you WILL do this!"
You can read Jodi's blog, where Jodi shares thoughts, stories, articles, photos and more. Check out the blog and leave Jodi a comment – she would love to hear from you!
Remember to look for Jodi on Twitter.
Photo Credit: Lon Horwedel, AnnArbor.com